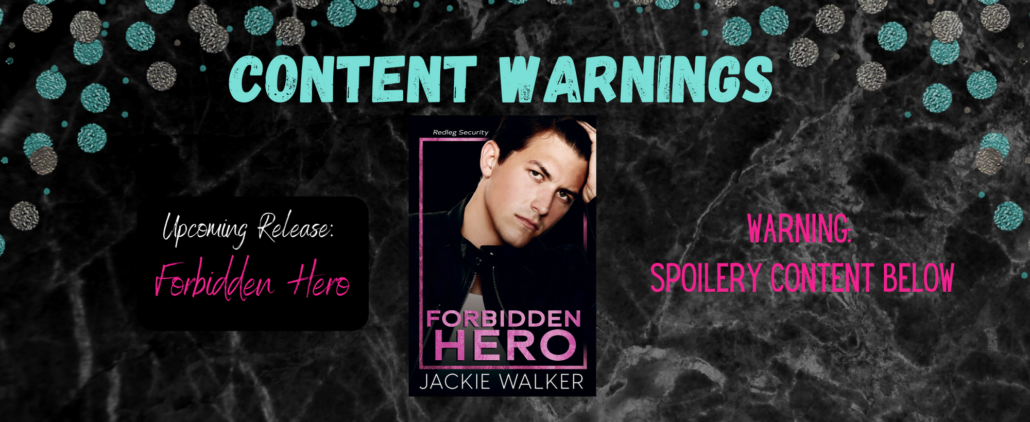 Minimal Spoilers Ahead – You've been warned!
Forbidden Hero: A Redleg Security Novel – Content Warnings
Hello lovely readers!
Out of respect and love for my readers, I'm offering the following brief summary of content that some readers may wish to know about before reading Forbidden Hero. If you have any questions, feel free to message me on social media or via email: Authorjackiewalker@gmail.com. I'm happy to answer your specific inquiries so you can read this book without concern.
First off – this is not a "Dark Romance". It's still got the vibe you'd expect from a Jackie Walker novel. The content that is on this page is handled with the utmost of care and respect.
Okay, here are some common triggers that are included in the book.
This book does contain adult alcohol use, profanity, (consensual) sexually explicit scenes, action-packed scenes including abduction, stalking, fighting, gun violence, and other suspenseful elements. In addition, there are references to anger management issues, PTSD, and (off page) past domestic violence (one main character), along with minor references to past child abuse (one main character) and a faked-suicide (one main character) and one scene depicting a military battle. Kinks include: breeding kink, dominant female/submissive male, using toys, and light bondage.
I've done my best to present these items as sensitively as possible for my readers.